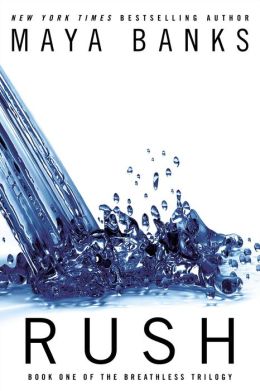 Let me tell you. After finishing this steamy first book in the Breathless series, I cannot wait to start book 2. If you're looking for a romance a la FiftyShades or Bared to You, look no further. Rush is a sexy and touching ride that really will leave you breathless.
Gabe, Jace, and Ash: three of the wealthiest, most powerful men in the country. They're accustomed to getting anything they want. Anything at all. For Gabe, it's making one particular fantasy come true with a woman who was forbidden fruit. Now she's ripe for the picking...

When Gabe Hamilton saw Mia Crestwell walk into the ballroom for his hotel's grand opening, he knew he was going to hell for what he had planned. After all, Mia is his best friend's little sister. Except she's not so little anymore. And Gabe has waited a long time to act on his desires.

Gabe has starred in Mia's fantasies more than once, ever since she was a teenager with a huge crush on her brother's best friend. So what if Gabe's fourteen years older? Mia knows he's way out of her league, but her attraction has only grown stronger with time. She's an adult now, and there's no reason not to act on her most secret desires.

As Gabe pulls her into his provocative world, she realizes there's a lot she doesn't know about him or how exacting his demands can be. Their relationship is intense and obsessive, but as they cross the line from secret sexual odyssey to something deeper, their affair runs the risk of being exposed—and vulnerable to a betrayal far more intimate than either expected.
I really liked Rush. Gabe was your typical business man with a bondage fetish (you know, a typical businessman...) who falls for his best friend Jace's sister. Mia has always been trying to get Gabe's attention, but their age difference and her brother always kept her from getting what she wanted.
Their dynamic was interesting because while Gabe was the ever domineering and controlling man, Mia held her own. She is not only feisty, but she's independent. She's okay with being on her own because she's not making sacrifices for what she deserves. It was refreshing to read a romance about a woman who wouldn't be caught dead playing the damsel in distress. She holds her ground and when things get tough, she would rather live alone that with someone who doesn't treat her the way that she deserves. I'm all the way team Mia.
The story is extremely sexually charged and there are some definite down and dirty situations. Rush is not for the faint of heart, but I loved every minute of the story. If you're looking for something that will literally steam your socks off, open Rush and have an iced beverage handy!
Happy Reading :)