I'm so excited to be participating in this tour for Addicted to You by Becca and Krista Ritchie! These girls are some of the best bloggers out there and I'm so excited for you all to read their new New Adult book.
I'm almost finished and let me tell you.... it's crazy awesome! We've got a excerpt (that's extra
scandelous)
AND a giveaway below so read on and don't forget to add
Addicted to You
to your
Goodreads
!
Excerpt from Addicted to You!
My body aches. I wish I had the fire in my heart to stand up, to walk over to him. To put my hands on his chest and wrap a leg around his waist, straddling him on the gym bench seat. His breath falls short and he asks, "Lily?" But he doesn't stop me. He lets me lean in, my hips sinking into his. I kiss the base of his neck while his restraint lessens, and he groans, throatily telling me to meet him in the locker room.
A damp towel hits my face, and I jolt back to the living. Lo raises his eyes accusingly. "Dream of me?"
My arms flush. "Maybe." Hopefully I'm only transparent with Lo.
"You're supposed to say yes." His eyes twinkle in amusement.
"Yes," I say with a smile. "Can we do it now?"
_________________________________________________________________________________
No one would suspect shy, Lily Calloway's biggest secret. While everyone is dancing at college bars, Lily stays in the bathroom. To get laid. Her compulsion leads her to one-night stands, steamy hookups and events she shamefully regrets. The only person who knows her secret happens to have one of his own.
Loren Hale's best friend is his bottle of bourbon. Lily comes at a close second. For three years, they've pretended to be in a real relationship, hiding their addictions from their families. They've mastered the art of concealing flasks and random guys that filter in and out of their apartment.
But when they go on a family boat trip, surrounded by open seas and limited male bodies in sight, Lily's confronted with a big fear. Only one guy onboard can fill her addiction, and she's sworn off going there with Loren Hale ever again.
Now the only person who can truly help her, can barely help himself.
**This is a New Adult book recommended for readers 18 and up**
About the authors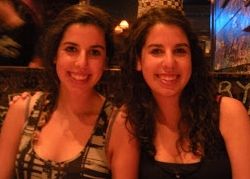 Becca Ritchie is a carnivore of pop culture, television, film and of course YA and NA books. While in college, she worked at The CW television network and put her vampiric knowledge to good use, blogging about hit series and swooning over actors' abs. When she's not blogging, she writes novels and has teamed up with her twin sister for their New Adult novel Addicted to You. Available July of 2013.
Krista Ritchie is the mind behind popular trading website YA Book Exchange and created Nawanda Files, a book blog that also features books into movies news. When not pouring over entertainment news and the newest releases, she spends her time conducting research in a genetics lab. She's happy to join forces with her sister, harnessing their twin powers to produce the first in a New Adult series.
a Rafflecopter giveaway